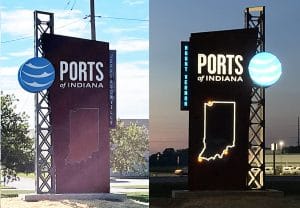 The Ports of Indiana is upgrading how visitors are greeted at each of its sites.
New entrance signs made of steel, aluminum and corten were installed at the ports in Mount Vernon and Jeffersonville, with Burns Harbor to follow soon, port officials said.
The signs were created and installed by B Sign Group of New Albany.
Each sign showcases an outline map of the state of Indiana and lighted locations of the three ports. The signs are lit from dusk until dawn, including the POI name, logo, state and location name.
Port officials said each sign weighs more than 8,000 pounds. The corten rust finish is meant to enhance the longevity of each sign, which each feature seven power supplies for the hundreds of LED lights.
The Ports of Indiana-Burns Harbor has an estimated economic impact of $5.2 billion, generating $402,000 in annual tax revenues. It also supports more than 30,000 jobs annually with annual average salaries of $62,000.