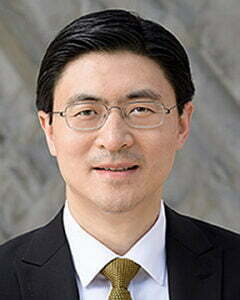 Purdue University's new leader isn't much into ceremony. In his inaugural message, Mung Chiang said he would skip the investiture ceremony to focus on the work ahead.
And he has been busy.
Chiang already has been appointed to Muncie-based First Merchants Corp.'s board of directors. And he attended President Joe Biden's State of the Union address Feb. 7 with Sen. Todd Young. Plus he will host Nobel Prize winner David MacMillan on Feb. 13 during the first in his 2023 lecture series.
Chiang became the 13th president of Purdue on Jan. 1. He was the John A. Edwardson dean of engineering and executive vice president for strategic initiatives for the university. He also served as an adviser to the U.S. secretary of state in 2020 on matters related to science and technology.
"Mung is the ideal choice to lead Purdue into its next 'giant leap,'" Board of Trustees Chairman Michael Berghoff said in a press release.
Chiang replaced Mitch Daniels, who became president in 2013.
Chiang praised Daniels for his innovative ideas that resulted in a tuition freeze, a Purdue University Global land grant and Discovery Park District. Chiang said he will build on those results.
"Our university will continue to elevate and become one of the most preeminent universities in the world," he said in his speech. "It takes a village, and each day is a reminder of our shared sense of purpose, despite seismic changes coming to the modality and impact of residential education, online learning and university research."
Chiang helped honor Daniels on Feb. 3 when the business school was renamed the Mitchell E. Daniels Jr. School of Business. The university also earmarked $100 million to relaunch the business school.
"Through the launch of the Daniels School of Business, Purdue will have a world-class business school that carries out even more top-caliber research and educates many future leaders of a technology-driven, free market economy," Chiang said.
Chiang earned a Bachelor of Science in electrical engineering and mathematics, and a Master of Science and doctorate in electrical engineering from Stanford University. He was the Arthur LeGrand Professor of Electrical Engineering at Princeton University before coming to Purdue.
As the holder of 25 patents and the founder of three companies, his commitment to the business community is self evident.
"Supporting businesses to grow and thrive through attentive service helps our communities prosper, and that is our bank's service approach," First Merchants Corp. Board Chairman Charles Schalliol said in a company press release. "Dr. Chiang's experiences indicate his passionate desire to have that type of positive economic impact, and we are grateful to have him join our board."
First Merchants Corp. is a holding company for First Merchants Bank, which has about 15 banking locations in Northwest Indiana.
In 2013, Chiang also earned the National Science Foundation's Alan T. Waterman Award for his work in wireless networking. The honor is presented to an American researcher younger than 40.
Chiang will continue as Purdue's Roscoe H. George Distinguished Professor of Electrical and Computer Engineering.
"Dr. Chiang was an early supporter of the Endless Frontier legislation that became the CHIPS and Science Act, and Purdue University will be an instrumental partner in the implementation of key education and research components of the new law," Young said in a press release.
Chiang is the founding director of the Krach Institute for Tech Diplomacy.
"During my tenure as the science and technology adviser to the U.S. secretary of state, I witnessed the bipartisan and growing appreciation of the intersection between critical technologies and American foreign policy," Chiang said on the Purdue website. "Soon after returning to Purdue University in December 2020, we launched the center for tech diplomacy at Purdue to contribute to a crisp and essential vision: technology must advance freedom."
Chiang also is a member of the Applied Research Institute's board of directors. The organization works with the U.S. Department of Defense on national security initiatives.
Morning Consult named Purdue University America's No. 4 most trusted public university. The Wall Street Journal/Times Higher Education also recognized it as a top 10 public university, and U.S. News & World Report named it a top 10 Most Innovative University for five years straight. It has four campuses, the main one in Lafayette and regional campuses in Fort Wayne, Indianapolis and Northwest Indiana.