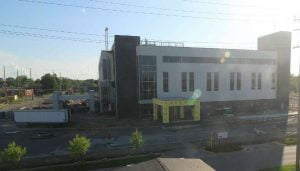 The new La Porte Hospital will be filled with the latest technological amenities and it also will be energy efficient and designed be environmentally friendly.
That's according to hospital representatives. The new 200,000-square-foot, $125 million hospital at 1331 State St., which broke ground in August 2018, is scheduled to open before the end of the year.
Supporting the environment and conserving energy consumption were significant considerations in the design of the new La Porte Hospital, hospital officials said. The new hospital will be Green Globes certified, a building rating and certification tool used to rate the efficiency of buildings across the U.S and Canada.
Energy efficiency and a green infrastructure were applied to the civil engineering elements of the structure and to the mechanical, plumbing, and electrical infrastructures in the new hospital.
A green infrastructure approach to storm water management was incorporated into the new La Porte Hospital. Hospital officials said the facility has exceeded minimum requirements to detain additional runoff to pre-construction levels.
The design called for installation of an innovative system to collect, infiltrate and filter the rainwater runoff into the subsoil, ultimately recharging the aquifer below, hospital officials said. The system includes a combination of permeable pavers, which reduces storm water runoff leaving the site, and underground chambers to collect and store the runoff as it percolates into the ground.
Much of the mechanical equipment installed was commissioned to verify optimum performance and efficiency, hospital officials said. Premium efficiency was specified for all the mechanical equipment.
Variable frequency drives were specified for HVAC systems which also allow energy savings, hospital officials said. The chillers, which are large systems critical to the operation of the HVAC system, include variable frequency drives to allow energy savings and they use low emissions refrigerants.
Each patient room also has its own comfort controls in compliance with LEED standards for the controllability of systems related to thermal comfort. LEED (Leadership in Energy and Environmental Design) is another widely used green building rating system.
The new hospital has also followed the LEED guidelines for air filtration which enhances indoor air quality, officials said.
Water consumption also will be reduced at the new hospital, officials said. Use of low-flow plumbing fixtures should reduce water use by 15% when compared to the current hospital.
Lighting is another area where the hospital adopted LEED standards, hospital officials said. Each patient room, clinical area, and staff area will control its own lighting and all lighting in the common areas was designed to have multiple levels of light control to conserve energy.