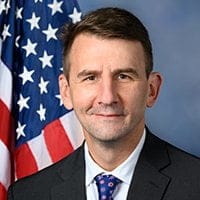 U.S. Rep. Frank Mrvan made staff changes to his congressional offices, including a new chief of staff.
Kevin Spicer will transition from deputy chief of staff in Mrvan's Washington, D.C., office.
Former Chief of Staff Mark Lopez will continue his public service as a senior adviser to the congressional office.
Spicer, who is originally from Schererville, is a graduate of Lake Central High School and Indiana University Bloomington. He earned his master's degree from Georgetown's McCourt School of Public Policy He also served in the Peace Corps.
"Throughout my time as a member of Congress and previously as a township trustee, I understand the importance of having dedicated staff committed to tireless advocacy, whether they are responding to a personal inquiry or promoting economic growth and transformational projects that benefit everyone in our environs," said Mrvan in a press release.
Brett Bierman, of Crown Point, will move from outreach coordinator to district director in Mrvan's Merrillville office. He started working for Mrvan in 2008. He graduated from Griffith High School and earned a public management degree from Indiana University Northwest.
In another change at the Merrillville office, Renee Ramos, of East Chicago, will become the congressional relations manager. She began working with Mrvan in 2015. She is a graduate of Bishop Noll and studied at Purdue University Northwest.
Other changes include Drew Ficociello moving from press assistant to press secretary. She began working in Mrvan's office 2021. She earned a degree in public affairs from Indiana University Bloomington and a master's degree from George Washington University's School of Political Management.