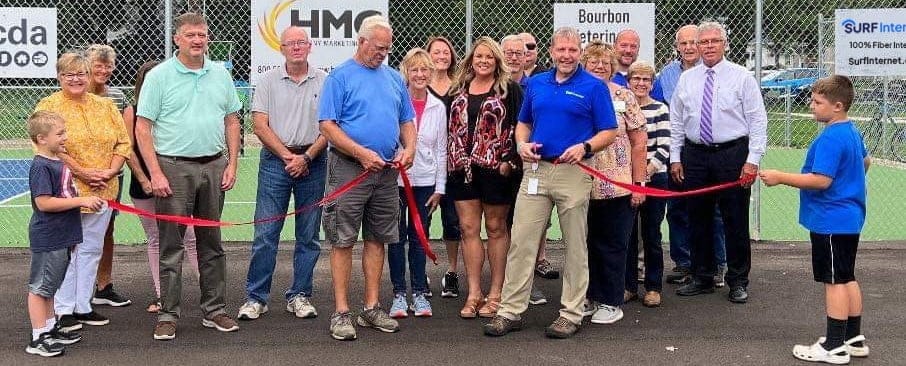 Finding a community in Indiana without access to high-speed internet services may prove challenging in the not-so-distant future.
Thanks to initiatives including Indiana's Next Level Connections Broadband Grant Program, more providers are bringing high-speed internet services to communities where it previously wasn't available.
Elkhart-based Surf Internet, formerly Surf Broadband Solutions, launched broadband service to the Town of Bourbon in Marshall County, about 40 minutes south of South Bend. The company announced in June 2021 it would begin installing infrastructure to bring broadband service to Bourbon, a project nearly seven years in the making.
Surf Internet also provided resources, which went toward renovating Bourbon's sports center, which now features new asphalt, stands, basketball hoops, fencing, and a pickleball court. Town officials were joined by Surf representatives for a ribbon cutting in late August to mark the completion of the site's upgrades.
"Surf is proud to have been a part of making both of those aspects a little better for the people and businesses of Bourbon, through high-speed fiber internet and an amazing new place to have fun," said Gene Crusie, CEO of Surf Internet.
To date, about 30% of Bourbon's nearly 2,000 residents have signed up for fiber internet services. Surf was among the third-round recipients of more than $189 million awarded through the Indiana Next Level Connections Broadband Grant Program.
North Carolina-based Brightspeed also is expanding broadband coverage in Indiana. The company, which operates in 20 states, said it plans to build out its fiber network in Indiana, which would extend coverage to more than 50,000 residential and business locations by the end of 2023 in Adams, Carroll, Dearborn, Elkhart, Henry, Jasper, Johnson, Kosciusko, LaGrange, Madison, Marshall, Newton, Ohio, Pulaski, Randolph, St. Joseph, Starke, Switzerland, White, and Whitley counties.
"There are several rural counties in Indiana that are poised for growth in the next few years, but it comes down to quality of life in these rural areas," said Lt. Gov. Suzanne Crouch. "Access to quality education and healthcare are keys to this growth, but neither can happen without affordable and reliable connectivity."
Brightspeed's Indiana plans are part of its overall effort to invest at least $2 billion in fiber optics to reach up to 3 million homes and businesses over the next five years in mainly rural and suburban settings.