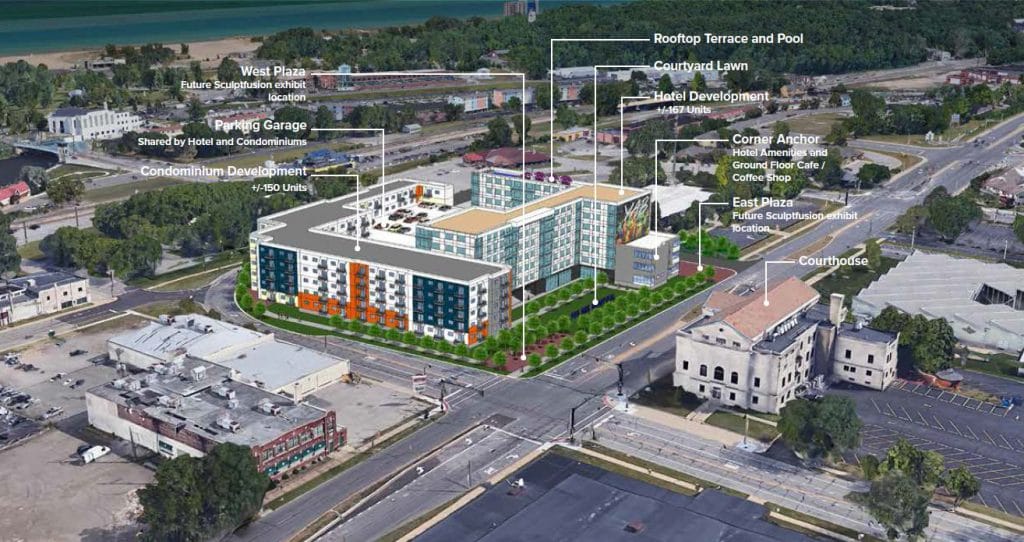 Another major multi-million-dollar mixed-use development is coming to Michigan City.
City and economic development officials announced a $150 million project for an area of West Michigan Boulevard near city hall. This site is the current home of the Matthew Hoffman "You Are Beautiful" movable art installation and once served as the location of the city's police department as well as the News Dispatch building before the site was cleared for redevelopment in 2017.
"We see this project as a perfect opportunity to incorporate art, tourism, amenities and residential, all in one place," said Scott Goodman, founding principal of Farpoint Development/Decennial Group. "The multi-family residential building and a hotel will wrap around the parking structure and have areas for outdoor dining, rooftop amenities and upper units with Lake Michigan views."
The project will feature a boutique hotel with eight stories and 180 rooms, seven stories of multi-family living with 150 units, a parking structure with 324 spaces, rooftop hotel terrace and pool, space for restaurants and plazas to exhibit future Sculptfusion works of art.
Michigan City Mayor Duane Parry said the project brings together public spaces with enhanced architecture and artistic elements to enhance the vibrant energy of downtown.
"We continue to work toward projects that not only build up our city's offerings to visitors and community members alike, but also strengthen our economic development surge," he said.
In late February, the city and developer Flaherty & Collins announced an $80 million mixed-use residential and commercial development on a site that covers an entire city block bounded by 10th and 11th Streets on the north and south sides, and Franklin and Pine Streets on the west and east. Passenger rail upgrades to the city and across the Region are credited for sparking new development around Northwest Indiana.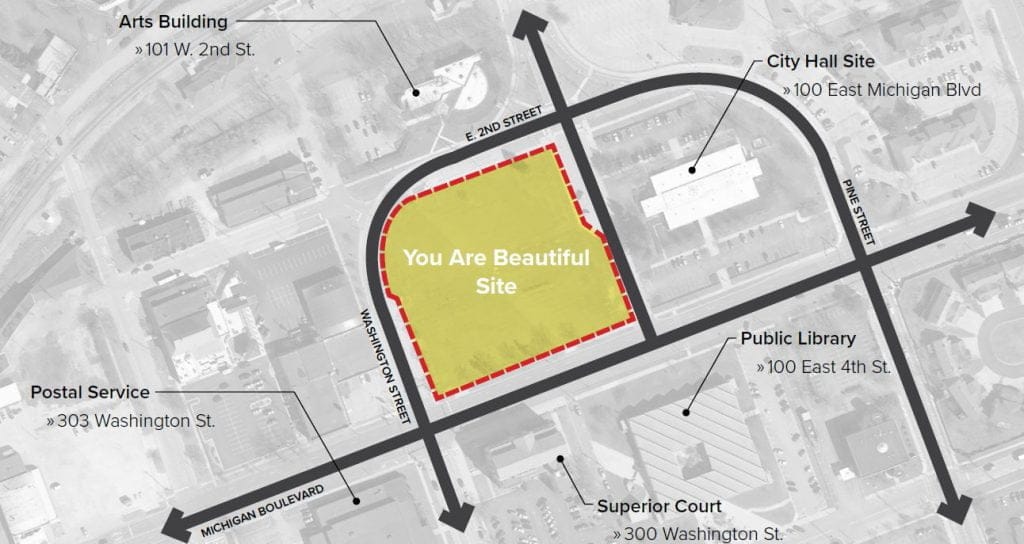 Linda Simmons, chair of the Economic Development Corp. Michigan City and director of marketing at Visit Michigan City LaPorte said the movable art installation was brought to the city in 2017 as a way to inspire community members and guests with a simple, but uplifting message.
"This is a great example of economic development and tourism working together to improve the community with developments that support common goals," she said.
The Farpoint Development/Decennial Group project is expected to bring 119 construction jobs, 167 permanent jobs and more than 65,000 guests annually to the city, who will be within walking distance of the beaches, downtown restaurants and businesses.
"We are looking toward fall of 2022 to really see this transformative project get off the ground," said Clarence Hulse, EDCMC executive director. "We continue to work with city leaders and the Redevelopment Commission to bring dynamic initiatives and projects to our downtown and beyond."