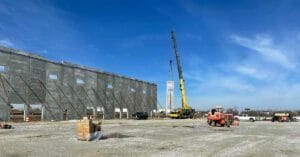 The million square feet of space planned at Silos at Sanders Farm in Merrillville is starting to take shape.
Precast walls are going up on the first speculative building under construction along Interstate 65 between 93rd and 101st avenues. The 263,500-square-foot building is a $225 million investment, according to a press release. The project started in August 2022.
Town leaders are confident the project will drive economic development in the area.
"We've never seen anything like that in Merrillville in the last 50 years," Town Councilman Shawn Pettit said. "This is a once-in-a-lifetime type of project, it really is."
Dallas-based Crow Holdings, the developer, is on schedule to complete the building in October. Matt Kurucz, managing director of the industrial group of Crow Holdings, said five buildings are planned for the business park.
"Leasing interest is strong, and we look forward to bringing another great business or businesses to Merrillville this year," Kurucz said. He said it should be ready for occupants by April 2024.
The real estate investment and development firm also is installing about $30 million in new infrastructure at the site, including improvements to Mississippi Street, water and sewer extensions, a sanitary lift station and electrical substation.
Merrillville Economic Development Director Angie Chilcott said the project will create more than 500 jobs and revenue for the town.
"This project will play a major role in establishing the town of Merrillville as a viable and competitive option to the Chicagoland market," Chilcott said.
Councilman Rick Bella couldn't agree more.
"These projects create temporary construction jobs, and upon completion, create permanent high-paying jobs for Merrillville residents as well as the entire region," Bella said.