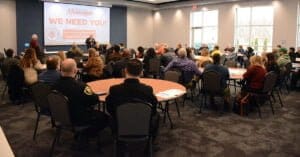 The town of Merrillville wants to grow and is open to all ideas for economic development. It kicked off its Merrillville Momentum initiative with a brainstorming session with residents March 23.
"The success of this plan will be dependent upon you and your input and your ideas," said Town Manager Patrick Reardon to residents.
The plan, which includes all facets of town life, could look 20 years into the future, according to a press release.
More than a dozen people shared their ideas, including a convention center, sports complexes and roof-top restaurants. They also said the Interstate 65 and U.S. 30 corridor should be a focus of development.
Merrillville hired Des Moines, Iowa-based RDG Planning & Design as the consultant for the comprehensive plan. Cory Scott, project manager at RDG, said the information collected will be vital to their process.
Residents and stakeholders also can share their ideas on a website dedicated to the Merrillville Momentum initiative. It includes surveys and a map to make specific comments.
"Our collective charge is to make sure that all ideas are considered and all thoughts are verbalized," Reardon said. "That you're comfortable to say what you like."
Martin Shukert, the principal planner at RDG, said there will be more planning sessions this summer in different areas of the town that will be announced on Facebook. He encouraged residents to get involved.
"We really need your help throughout the process," Shukert said.