Tina Christiansen has joined Merrillville-based Haire Group as its client services manager.
The corrugated box machinery company hired Christiansen to advance their customer-centric approach.
"In 1976, Tom Haire founded our company with philosophy based on taking care of our people, taking care of our customer, doing the right thing and having fun," said Mike Mulroe, president of Haire Group, in a press release. "Tina embodies that philosophy, and in a short amount of time, has taken our customer intimacy strategy to the next level. She's engaging our customers in a way that ensures we're getting their insights to improve all facets of our business to consistently exceed the customers' expectations."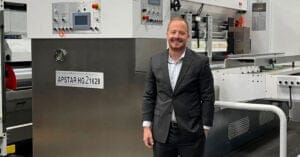 Christiansen began her career in the golf industry. But her volunteer work set her apart for the Haire Group. She also volunteered with the  VNA Hospice Center from 2006 to 2014 and as a grief support group facilitator at the Valparaiso-based VNA Phoenix Center from 2012 to 2020.
The Haire Group also hired Danny Lopez as its director of business development. He has a bachelor's degree in mechanical engineering from Washington State University and an MBA from the University of Phoenix. Before joining Haire, he worked for Alliance Machine Systems International for 16 years.
The Haire Group, which was founded 45 years ago, has served 876 customers and printed 25 billion boxes, according to its website.
Caption: Tina Christiansen is the new client services manager for Merrillville-based Haire Group. (Provided by the Haire Group)