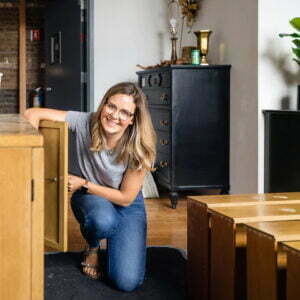 Meg Piercy says MegMade was a "happy accident" during a difficult time of her life.
Her now successful furniture company started off as a do-it-yourself project about 12 years ago. To save money, she turned a dresser into a changing table. She and her husband sold that first dresser on Craigslist in less than a day.
"I realized I found it therapeutic, and Joe and I started painting dressers in our living room every night after our son went to bed," Piercy said of her husband.
Eventually, customers were picking up dressers daily, so they opened a storefront in Chicago. After the pandemic hit, the couple wanted a change, so they moved to Northwest Indiana. And now, they plan to open a second location March 3 in Munster.
"We realized we saw so much potential in all NWI can be, and when the opportunity came about, we thought it was the perfect location to open up a second showroom," she said. "There are limited furniture options around, and we wanted to make a lasting impact on NWI."
The two met on a blind date and now have three sons.
"It's amazing being able to work so seamlessly with your spouse, and we're grateful to be able to work on this dream as a team," she said.
The couple also successfully launched their show "Renovation Goldmine" on HGTV, which aired for the first time last April. In the show, the couple brings new life to treasures already in their clients' homes. Their motto is "find the gold."
They did find that first repurposed dresser in an alley.
"To say the rest was history is an understatement, because that moment lit a fire inside us that is still burning strong," Meg Piercy said.
She said the show took about four years to develop. All eight episodes are now on Discovery+. But more episodes are on the backburner for now. They are taking some time off from filming to open their second storefront.
The couple does have help at home, too. Piercy's parents moved from Kansas City where Meg was raised to help with the kids during filming.
"We love what we do, and being able to have family that is so on board makes it that much more exciting when you get to celebrate milestones of the business with them," she said.
One of those milestones is coming up when MegMade officially celebrates its grand opening March 9 at 9610 N. Centennial Drive.
"Northwest Indiana is a place my family calls home, so already it means a lot to my family as a whole," Piercy said.