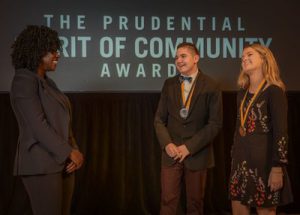 Adrian Huizar of Michigan City and Tatum Parker of Indianapolis were honored as Indiana's top two youth volunteers May 5 during the 24th annual presentation of The Prudential Sprit of Community Awards.
Huizar, 15, and Parker, 18 along with 100 other top youth volunteers from across the country, received a $1,000 award and personal congratulations from award-winning actress Viola Davis during an award ceremony and gala dinner reception held at the Smithsonian's National Museum of Natural History.
The Prudential Spirit of Community Awards program, sponsored by Prudential Financial in partnership with the National Association of Secondary School Principals, named Tatum and Adrian Indiana's top high school and middle level youth volunteers in February. In addition to their cash awards, they each received an engraved silver medallion and an all-expense-paid trip with a parent to Washington, D.C., for four days of recognition events.
Huizar, an eighth-grader at Queen of All Saints School, started a tutoring program at his school that recruits members of the National Junior Honor Society to assist other students who are having difficulty with their homework. When he was younger, Huizar received help at an after-school homework program run by two teachers.
"It really helped me a lot and made a difference in my grades," said Huizar. "I realized there was a need to help more students."
Parker, a senior at North Central High School, has delivered more than 3,500 backpacks, each filled with about $350 worth of fun items, to every child in Indiana diagnosed with cancer since she and her family began the "Tatum Parker Project" in 2008.
When Parker was almost 6 years old, she learned she had Ewing's sarcoma, a rare cancer, in her right femur. After she was well again, Parker and her family wanted to give back to the pediatric cancer community, established a website and started raising money to purchase fun items to fill backpacks.
The Prudential Spirit of Community Awards program was created in 1995 to identify and recognize young people for outstanding volunteer. The program has honored more than 125,000 young volunteers at the local, state and national level.
Additional information about The Prudential Spirit of Community Awards and this year's honorees is available at the program's website and through the National Association of Secondary School Principals.