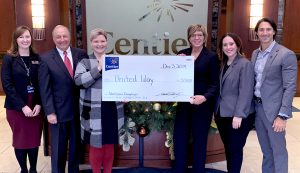 Giving Tuesday has inspired millions of people and organizations around the world to give to a local cause since its inception seven years ago.
This year during Giving Tuesday, Dec. 3, Merrillville-based Centier Bank donated $50,000 to United Way as part of its annual contribution campaign. It's estimated the funds will serve more than 100 United Way programs.
Centier's donation will support United Way organizations in the 11 counties in which the bank serves, including Lake, Porter, La Porte, St. Joseph, Elkhart, Marshall, Allen, Tippecanoe, Boone, Marion and Hamilton.
Mike Schrage, president and CEO of Centier, said United Way's mission is supported by bank associates, because it assists people in the communities served by Centier.
"United Way is a wonderful organization that truly cares about the wellbeing of individuals across the globe," Schrage said in a statement.
This year, Centier also helped Lake Area United Way raise $65,000 during its annual Over The Edge rappelling fundraising event, held at Centier's Corporate Centre.
Anthony Contrucci, vice president of business development at Centier Bank, said the contribution highlighted a year of giving from Centier and its associates, who have contributed more than 17,000 hours of volunteerism to nearly 800 organizations in 2019.
"Our associates are the pinnacle of the servant heart culture that is at the heart of Centier," Contrucci said. "We will continue to support United Way in its efforts to improve the lives and advancement in communities across the state."
Giving Tuesday is a global movement launched in 2012 to encourage people on that day to donate or support a cause.