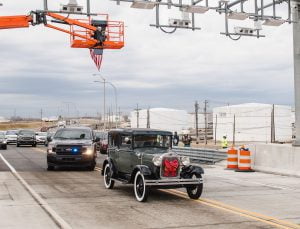 The owner-operator of the Cline Avenue Bridge in East Chicago is being proactive to prolong the life of the span, which re-opened in December.
United Bridge Partners will apply a protective bridge deck overlay, which will mean bridge closures beginning July 9 and continuing through Oct. 4. The closures will be on weekends, beginning Fridays at 8 p.m. and continuing through Mondays at 6 a.m., with the exception of Labor Day weekend, the company said in a statement.
A detour route is available at clineave.com.
Company representatives said, "adding an overlay to a bridge deck is a common practice early in a bridge's life to weatherproof the deck and ensure maximum service life." It also prevents water and ice-melting chemicals from penetrating the bridge surface, which could cause cracking to untreated bridge surfaces over time.
The overlay project was scheduled for the summer because of temperature requirements of the application process. Weekends were selected to minimize traffic impact.
The product being used is an epoxy polymer concrete overlay consisting of alternating layers of epoxy that seals the bridge deck and an engineered blend of graded aggregate that provides friction and a smooth ride to drivers, according to United Bridge Partners.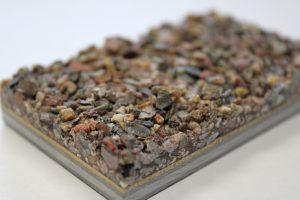 "Customer safety and providing an exceptional travel experience are at the forefront of everything we do," said Terry Velligan, general manager of operations at Cline Avenue Bridge. "While we understand that the weekend closures will be a temporary inconvenience, we are committed to ensuring that this bridge is impeccably maintained and serves the community for decades to come."
United Bridge Partners is providing a 20% discount to 2-axle customers paying with E-ZPass or I-PASS at the time of travel in July as way to offset the inconvenience of the project.
The new Cline Avenue Bridge is a 1.2-mile-long segmental concrete bridge connecting an existing, fully rehabilitated, half-mile steel viaduct at the east end with the existing SR 912 roadway abutment on the west end. Its two lanes support traffic going into Lake County and Chicago and was projected to service 10,000 vehicles daily.