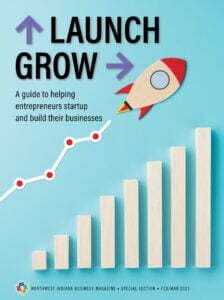 Northwest Indiana Business Magazine presents a new feature in its February-March issue: a special section offering a how-to on building and growing a business.
The eight-page pullout in the February-March issue of the magazine provides a seven-step guide that gives entrepreneurs the tools and the access to experts needed to start and grow their businesses in Northwest Indiana.
The section features three stories and a link to the U.S. Small Business Administration's first "Did you know?" column, which will be a regular feature on the nwindianabusiness.com website.
The first story, "One step at a time," offers insights from four experts on launching and growing a small business in Northwest Indiana. The second article, "Culture for business," calls on four more experts to discuss the statewide network of people from the federal government to regional Small Business Development Centers that support small business owners.
"I think we as a local, a regional culture, have that measure of determination and tenacity that is well-suited for entrepreneurship," said Lorri Feldt, regional director of the Northwest Indiana Small Business Development Center, in the special section.
The third story is a roundup of 15 Northwest Indiana companies that earned a place in the "Entrepreneurship Indiana" yearbook from the Indiana Economic Development Corp.
The guide to helping entrepreneurs start up and build their businesses is the first of three scheduled special sections for 2023. Learn more about upcoming topics here.