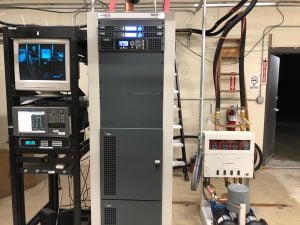 Merrillville-based Lakeshore Public Media is broadcasting again at full power thanks to a new digital transmitter.
"We are proud to announce a resumption of full broadcast service," said James Muhammad, president and CEO of Lakeshore Public Media. "It has been an ordeal but we are now back and we should be better than ever."
During the past six months, Lakeshore PBS has spent nearly $400,000 in equipment and repairs, removing its old transmitter and equipment as well as purchasing a new solid-state transmitter, Lakeshore said in a statement.
Lakshore's transmission equipment was damaged in a storm in July 2018, which took the station off the air.
Lakeshore PBS debuted in November 1987 as WYIN Channel 56, a commercially licensed public television station.