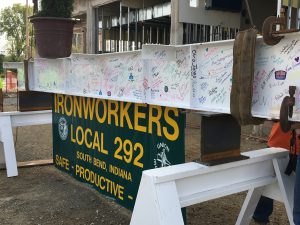 The new La Porte Hospital is on track to open before the end of 2020.
Hospital and community members celebrated a construction milestone Sept. 12 with a topping out celebration, which marks the placing of last steel beam onto the building. In just over three months, more than 3 million pounds of steel have been assembled to create the structure of the new La Porte Hospital at 1331 State St., hospital officials said.
The beam featured signatures of hospital employees, community members and others. More than 100 individuals signed their name on the beam or wrote well wishes to the organization, hospital officials said.
The $125 million acute care community hospital will feature 88 beds and many outpatient services. It also will include a 24-hour emergency department, similar to the existing hospital.
The new hospital will replace the current facility at 1007 Lincolnway, which will continue to operate during construction. Officials are determining what to do with the old hospital site once the new facility opens but said it would tear down building if another use is not found.
Hospital officials have said they remain committed to preserving the legacy of the current hospital by finding ways to memorialize the special items that were donated to the hospital through the years.