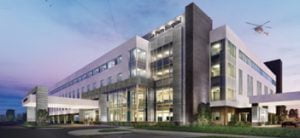 La Porte Hospital has received recognition from national credentialing organizations for stroke and cardiac care services.
The hospital earned The Joint Commission's Gold Seal of Approval for Primary Stroke Certification. The American College of Cardiology also recognized the hospital for its expertise in treating patients who come to a cardiac electrophysiology lab for care.
La Porte Hospital underwent an onsite review in December by The Joint Commission. During the visit, the Joint Commission evaluated compliance with related certification standards including program management, compliance with evidence-based protocol, timeliness of care, and an overall demonstration of expertise in the delivery of stroke care.
Joint Commission standards are developed in consultation with health care experts and providers, measurement experts and patients. La Porte Hospital first received Primary Stroke Certification in 2007.
Electrophysiology labs provide care for patients with arrhythmias and may require treatments such as cardiac ablation and implantable devices such as pacemakers and implantable cardioverter defibrillators.
Hospitals receiving Electrophysiology through the Accreditation American College of Cardiology must take part in a multi-faceted clinical process that involves completing a gap analysis; examining variances of care; developing an action plan; a rigorous onsite review; and monitoring for sustained success.
Facilities that achieve AAC accreditation meet or exceed an array of stringent criteria and have organized a team of doctors, nurses, clinicians, and other administrative staff that earnestly support the efforts leading to better patient education, improved patient outcomes, and more effective and efficient disease control.