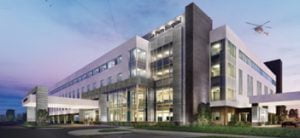 The new $125 million La Porte Hospital on track to open later this year, will be joined by a new four-story, 55,000-square-foot building, which will house physician offices and other services.
Hospital officials announced the project April 10, saying the new building should be completed by fall 2021 and will be next to the new hospital at 1331 State St., which is in the final stages of construction.
The new building will include 15 office suites housing a combination of physician offices and will connect to the new hospital on both the first and second floors. Outpatient services to be housed in the new building include wound care, sleep studies, infusion services and the arrhythmia center.
"This new medical office building will augment the services available in our new state-of-the-art hospital, giving patients throughout La Porte and the surrounding areas a convenient, one-stop location for specialty care and services," said Ashley Dickinson, CEO of La Porte Hospital. "We are excited to expand the new hospital project and look forward to bringing our specialists and several additional outpatient services in close proximity to our new hospital."
La Porte Hospital has contracted with Florida-based Catalyst Healthcare Real Estate to develop the new office building. Catalyst HRE has healthcare real estate projects in more than 16 states. Robins & Morton, a construction firm specializing in healthcare facilities, will serve as general contractor for the project.
Robins & Morton is also the general contractor for the new hospital project.
Hospital officials expect to break ground on the office building this summer. The new La Porte Hospital is scheduled to open before year's end.