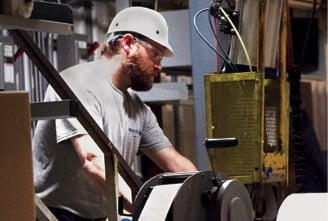 Merrillville-based MonoSol and 192 employees at its La Porte manufacturing plant agreed on a new contract, according to a Dec. 28 company press release.
"We are pleased that we have reached an agreement and now begin the process of welcoming our employees back to work," said MonoSol Vice President Matthew Vander Laan.
Employees ratified the four-year agreement, which includes a $6,000 signing bonus, a pay increase, and for two years, ends a contentious mandatory overtime policy. Workers rejected a Nov. 26 contract because it did not address the company's policy of 22 mandatory overtime hours a week and up to four hours a day, according to a Teamster Local 135's press release.
MonoSol workers mostly work a four-days-on and four-days-off 12-hours-a-day schedule because its manufacturing operations are continuous.
"We deserve a fair deal," said Eric Hoffman, caster and mixer at MonoSol, in a Teamster's press release. "We cannot accept a contract that includes forced labor."
The new agreement includes incentives for attendance and overtime that is voluntary.
Teamsters Local 135 union members started negotiating a new contract Nov. 1, but they rejected what the company called its best offer on Nov. 26. MonoSol said it did make another offer Nov. 29, but union members did not vote on it. When the contract expired Nov. 30, MonoSol locked out workers without pay, according to a Teamsters press release issued Dec. 16.
MonoSol stated in a Dec. 8 press release that its top priority was to reach a contract agreement. It also said that most hourly employees at MonoSol make more than $75,000 a year, while others top $100,000. The release also said the company pays 90 percent of health insurance costs and matches 401k contributions up to 5% of gross pay.
Union members picketed in La Porte where the company produces water-soluble, biodegradable films for washing machines and dishwashers for Procter & Gamble. Union members also picketed in Cincinnati at Procter & Gamble headquarters, saying that the mandatory overtime policy at MonoSol violated P&G's code of conduct in a letter to P&G.
The La Porte operation will reopen Jan. 3. Employees will receive pay for the Christmas and New Year's holidays.
Teamsters Local 135 also filed a charge with the U.S. Equal Employment Opportunity Commission that said workers report racial and gender discrimination while on the job at MonoSol.
"Everyone has the right to go to work, do their jobs, and not be harassed or discriminated against," said Anthony Rosa, director of the Teamsters Human Rights and Diversity Commission.
The company led several discussions last summer with employees about excessive absenteeism and how to curb the problem. They hope to continue those talks.
"We look forward to continuing the employee brainstorming sessions that began this past summer to reset the dialogue, strengthen our relationships and build trust consistent with our shared mission, vision and values," Vander Laan said.
MonoSol is part of Tokyo-based Kuraray Group, which develops specialty chemicals.