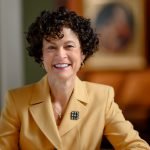 Katie Conboy was named president of Saint Mary's College.
She is the 14th individual to serve the role in the college's 176-year history, according to the university's website, which announced the appointment Feb. 12. Conboy was selected unanimously by the board of trustees and will begin on June 1.
The announcement was made at Saint Mary's to students, faculty, staff, and guests as well as to hundreds of alumnae and study abroad students who watched an online broadcast. Conboy succeeds Nancy Nekvasil, who has served as the college's interim president since 2018.
Conboy has served as provost and senior vice president at Simmons University, a women's college in Boston, since 2013. She also has worked at Stonehill College in North Easton, Mass., where she served first as a professor of English literature, then as provost.
Conboy has a doctorate in English literature from the University of Notre Dame and earned an undergraduate degree at the University of Kansas.
Saint Mary's College, which was founded in 1844, has about 1,600 students. Its campus is located across from the University of Notre Dame campus.