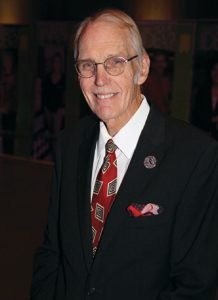 John Davies, the founder of the Society of Innovators of Northwest Indiana is the recipient of the organization's first ever Lifetime Achievement Award.
Davies, who launched the society in 2005, was presented the award during the group's annual event on Nov. 21. The society, now affiliated with Purdue University Northwest, said the award is its highest honor for an individual leader.
"John Davies easily crosses the hurdle of being recognized for lifetime achievement in this community," said Gary Johnson, president of Mortar Net Solutions in Portage and board chair of the Society of Innovators. A video tribute to Davies, featuring remarks from community leaders, was played during the event and is available on YouTube.
Davies, in his remarks during the program, said he was deeply honored to be selected as the award's first recipient.
"I accept (the award) on behalf of all the enormously talented people who inspired, built and grew the society in its formative years, leading to this exciting new era of which we can only imagine with great hopes and expectation," Davies said.
The society's Lifetime Achievement Award will not be given every year, according to the organization. It will be presented when its board of directors identifies deserving candidates.
The society said a Lifetime Achievement Award honoree not only must demonstrate significant innovation, but that the work must show sustained impact over a significant amount of time. Honorees also must show success beyond one role, company or sector.
The Lifetime Achievement Award is open to any individual whose work took place in or significantly impacted the Northwest Indiana region, the society said.
Davies is the founder and retired managing director of the Society of Innovators of Northwest Indiana. He led the organization from 2005 through 2018.
Davies was instrumental in relaunching the South Shore poster series in the late 1990s and worked with the South Shore Convention & Visitors Authority Northwest Indiana to create the Wall of Legends in 2004, an exhibit focused on often unsung Region heroes who shared the values of exploration, courage, creativity and innovation.
The society described Davies as a "self-proclaimed champion for Northwest Indiana."
Davies was one of the first to say that innovation exists in the Region, the society said. He was responsible for driving a culture of innovation in Northwest Indiana.
Jason Williams, assistant director of the Society of Innovators at Purdue University Northwest, said Davies' impact on the Region will last for generations.
"While speaking with many of John Davies' friends and colleagues, we quickly discovered that this award (was) long overdue," Williams said.