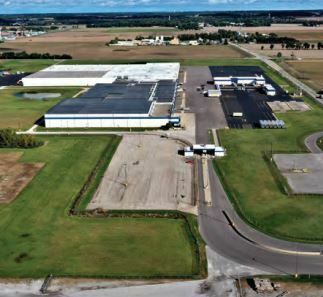 There was plenty of interest from people hoping to land a job with Lippert Components at its new La Porte County facility.
A representative for the La Porte County Office of Community and Economic Development said Lippert's Dec. 15 job fair at the La Porte Civic Center drew more than 200 people during the six-hour event. The Elkhart-based maker of components used in the leisure and mobile transportation industries, expects to fill as many as 60 jobs including maintenance, machine operators, forklift operators, general labor, line assembly and quality inspectors.
La Porte County officials announced Dec. 4 Lippert's plans to open a manufacturing site in Westfield.
"We are thankful that we are able to continue expanding our business allowing us to add more great people to the Lippert family," Ryan Smith, an executive with Lippert Components said in La Porte County's announcement. "There have been a lot of uncertainties in 2020, but we are grateful to be able to continue to increase our presence in the Northern Indiana region."
The reported salary range for these jobs was between $14 and $16 per hour. Lippert expects to begin operations by mid-January in the Midwest Trade Center building, 6500 S. U.S. Highway 421 in Westville.
Lippert's move into La Porte County could create up to 200 jobs by the end of 2022, county officials said. The company has sites around the world and employs more than 9,000 people.