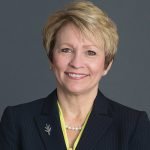 Sue Ellspermann, president of Ivy Tech Community College, recently joined the Presidents Forum Governing Board, an organization composed of presidents of higher education institutions, foundations, and academic support organizations dedicated to the continuous reinvention of higher education.
"I am grateful for the opportunity to serve on the Governing Board," said Ellspermann. "The opportunity for the Presidents Forum to advocate for and model innovation in higher education for the benefit of Americans, employers, and our nation is immense (and) I look forward to adding value to this incredibly talented team."
The forum is an association of 17 college and university presidents and chancellors representing 3 million students.
The nonprofit facilitates innovative projects leading to the adoption of ideas, practices, and actions to transform higher education.
Ivy Tech's Northwest and North Central Indiana campus locations include, East Chicago, Gary, Goshen, La Porte, Michigan City, South Bend and Valparaiso.