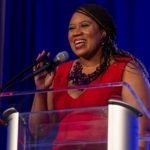 Ariel Crawley, director of IvyWorks at Ivy Tech Community College Indianapolis, was awarded the Tech Educator of the Year award at TechPoint's annual Mira Awards for her work and partnership with Indy Women in Tech (IWiT) program.
The Mira Awards celebrate the best in the state's tech industry. Winners were announced during the recent Mira Awards gala presented by Angie's List, Infosys and Salesforce. This sold-out event took place at the JW Marriott hotel in downtown Indianapolis, with 1,400 in attendance.
Crawley was one of 11 tech educators nominated for the award who adopt, demonstrate and encourage the use of technology in Indiana classrooms. She and 14 others took home a Mira Award out of the 109 total individuals, companies and products that were nominated.
"I am beyond honored to be the recipient of the 2019 Mira Awards Tech Educator of the Year award," said Crawley. "I love serving as the director of the program as it is a joy to assist female information technology Ivy Tech students on their journey as they work to enter the booming tech community in Indiana."
Crawley has been with Ivy Tech for seven years, two of which have been with IvyWorks. The program and partnership with IWiT, provides students with scholarships, professional development and wraparound services including daycare assistance.
"We have (more than) 15 students who have earned paid internships through a grant awarded through Salesforce," Crawley said. "The grant allows the women to work at partnering organizations such as the state of Indiana, BlackInk IT and Sandhi Solutions."
These internship opportunities help the women gain on-the-job training while learning in the classroom, all while balancing career and family obligations.