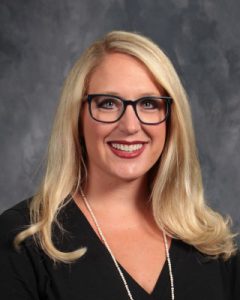 INDIANAPOLIS – Ivy Tech Community College has named Katie Jenner vice president of K-12 initiatives and statewide partnerships, effective Nov. 1.
Jenner will lead Ivy Tech's efforts in expanding K-14 talent development pipeline partnerships between K-12, career centers and Ivy Tech. She currently serves as the assistant superintendent for the Madison Consolidated Schools. 
Jenner started in K-12 education as a career and technical education teacher in Kentucky.  Since 2009, Jenner has been with MCS in Madison,​​ serving as​ ​an administrator at Madison Junior High School​, ​Madison Consolidated High School, and in her current role as assistant superintendent.
She earned her doctor of education in educational leadership from the University of Kentucky and her master of business administration from Indiana State University. She also holds a master of education with a business and marketing emphasis from University of Kentucky, in addition to a K-12 principal certification and K-12 superintendent certification. Her bachelor of arts, business and marketing degree is from Transylvania University. 
Jenner has served on the Indiana State Workforce Innovation Council, the Jefferson County Girls Inc. board, the Jefferson County Community Corrections Advisory Board, and the Pathways Youth Shelter and Family Services board. She is an emeritus member of the Indiana Department of Education eLearning Leadership Cadre.