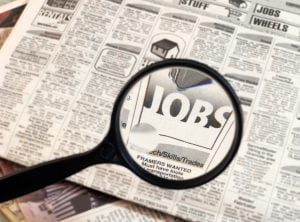 INDIANAPOLIS – Indiana's unemployment rate in July was 3.4 percent, the Indiana Department of Workforce Development reported.
July's figure was up from June's rate of 3.3 percent. The nation's jobless rate in July was 3.9 percent, which was down from 4 percent in June.
The state's jobless rate has run below the national rate for nearly four years. October 2014 was the only month during that period where Indiana's jobless rate was higher than the national rate.
The state said its jobless figures are from U.S. Bureau of Labor Statistics indicators, which show the number of unemployed people seeking employment within the prior four weeks as a percentage of the labor force.
Indiana's labor force in July had a net increase of 15,564 from the previous month. This was a result of a 2,964 increase in unemployed residents and an increase of 12,600 employed residents.
Indiana's total labor force, which includes both Hoosiers employed and those seeking employment, stood at 3.38 million in July.
The state's 64.8 percent labor force participation rate remains above the national rate of 62.9 percent. Indiana's labor force growth of 67,519 during the past six months represents the state's largest six-month increase since 1995.