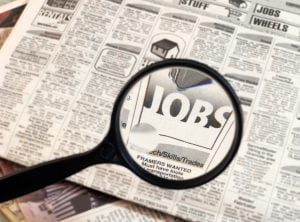 The state's jobless rate is holding steady at 3.5 percent, where it has been since August.
The Indiana Department of Workforce Development on Nov. 16 said the state's October jobless rate of 3.5 percent was below the national October unemployment rate of 3.7 percent. The state said Indiana's jobless rate has run below the national average for more than five years, with the exception of October 2014 when Indiana's unemployment rate matched the national figure.
The monthly unemployment rate is a U.S. Bureau of Labor Statistics indicator that reflects the number of unemployed people seeking employment within the prior four weeks as a percentage of the labor force.
The state said Indiana's labor force had a net increase of 5,303 in October from September. This was a result of a 2,411 increase in unemployed residents and an increase of 2,892 employed residents.
Indiana's total labor force, which includes both Hoosiers employed and those seeking employment, stood at 3.40 million in October. The state's 65.1 percent labor force participation rate remains above the national rate of 62.9 percent.
The state said private sector employment has grown by more than 25,500 year-to-date through October.
The state said job gains were seen in the private educational and health services sector with 2,500 jobs, and construction, which added 1,500 jobs.
Gains were partially offset by losses in the leisure and hospitality, which lost 2,500 jobs.
Total private employment reached a preliminary record highpoint of 2,713,200, which is 24,300 above the official December 2017 peak, the state said. The state downplayed Indiana's new employment total set in October, noting that data is subject to monthly revisions and annual benchmarking.