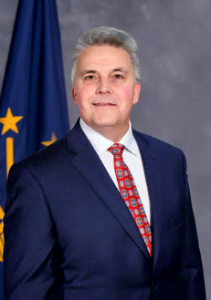 Bruce Kettler, director of the Indiana State Department of Agriculture, was appointed chairman of the National Association of State Departments of Agriculture's plant agriculture and pesticide regulation committee.
NASDA is a nonpartisan, nonprofit association that represents the departments of agriculture in all 50 states and four U.S. territories, and has six standing committees.
Kettler will oversee the committee's work, which is to review and establish the association's policy positions on national issues including, but not limited to: plant health, biotechnology, pollinator health, pesticides and invasive species. The committee will host monthly calls to discuss these issues and will convene at NASDA's annual policy meeting in Washington D.C., where their recommendations will be presented and voted on by the entire membership.
If adopted, those policies will be used by the association to advocate on behalf of the industry when meeting with lawmakers, government agencies, organizations and key stakeholders throughout the year.
Kettler was also appointed to serve as a member at-large for the NASDA Foundation. In that role, he will provide guidance on the foundation's projects that support and enhance the work being done by the nation's departments of agriculture.