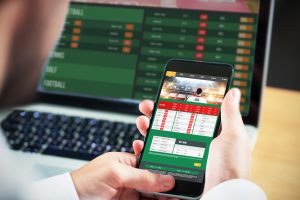 Sportsbook betting is gaining traction in Indiana.
PlayIndiana.com reports that Indiana's online and retail sportsbooks took in nearly $150 million in bets in November as online betting continued to rapidly gain popularity in the state.
"Once online betting begins, the market grows exponentially," said Dustin Gouker, lead analyst for PlayIndiana.com. "Bettors overwhelmingly prefer the convenience and safety of online sportsbooks, and the addition of DraftKings and FanDuel in October was like adding rocket fuel to Indiana's sports betting industry."
He said what's happening in Indiana with online betting is similar to what happened in New Jersey and Pennsylvania when it became legal in those states.
PlayIndiana.com said bettors from outside Indiana contributed to rising sportsbook performance. The state's retail and online sportsbooks generated a combined $147.3 million in bets in November, up 61% from $91.7 million in October.
Horseshoe Hammond, near Chicago, topped the Indiana market again with a $13 million November handle, up from $10.7 million. Those bets generated $800,208 in gross receipts, which was down from $1.7 million.
November's handle produced $9.3 million in adjusted gross revenue, down 19% from $11.5 million in October. Sportsbook betting yielded $883,361 in tax revenue for the state.
With three online sportsbooks operating for all of November, online betting is taking on a rapidly increasing role, PlayIndiana.com said. DraftKings, FanDuel, and BetRivers combined to generate 65% of the state's handle — a total of $96.2 million in digital bets — which was up from 52% in October.
Operating under the Ameristar Casino license, DraftKings led the online market in November with a $64.1 million handle, up from $39.4 million in October. FanDuel, operating under the Blue Chip Casino license, grew to $23.7 million, up from $2.4 million.
BetRivers, operating under the French Lick Resort license, was third with $8.4 million, up from $6.3 million.
"We expect that at least 75% of Indiana's handle will eventually come from online sportsbooks, and that threshold should be met within months," Gouker said.
Proximity to Chicago can be seen most clearly in Indiana's retail market. Three of the top five retail sportsbooks are based in casinos near the city.
Wagering on football accounted for 40% of all November bets in Indiana, PlayIndiana.com reported. And the top six retail sportsbooks are near cities with NFL franchises, including Indianapolis, Chicago, and Cincinnati.