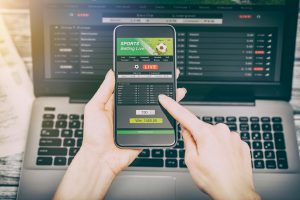 Interest in the NBA playoffs kept sports betting active in Indiana in June though wagers fell for the month when compared to May.
This is according to PlayIndiana.com, which analyzes Indiana gaming data and tracks the state's wagering activity. Analysts said online and retail sportsbooks accepted $246.3 million in wagers in June, down 3.2% from $254.4 million in May.
Analysts said average betting volume was $8.2 million per day over the 30 days in June, equaling the 31-day average in May.
"With the early exit by the Pacers from the NBA Playoffs and with no event comparable to the Indianapolis 500, a relatively low-volume month is no surprise," said Jessica Welman, an analyst for the PlayUSA.com network, which includes PlayIndiana.com. "Overall, Indiana's sportsbooks have performed well over the last three months compared with other Midwestern states, which have so far experienced steeper declines in betting volume."
Analysts said Indiana sportsbooks generated $26.7 million in gross gaming revenue from June's wagering, which was up 48.5% from $18.0 million in May. Adjusted gross revenue came in at $25.5 million, yielding $2.4 million in state taxes.
The last three months — typically three of the slowest sports betting months of the year — have been a mixed for Indiana, analysts said. Without meaningful year-over-year data to compare with, a product of market distortions caused by the pandemic, Indiana's start to the slow season in sports betting can be difficult to quantify.
Indiana's 22.2% decline from $316.7 million in March has been shallower than other Midwestern states with legal sports betting, including Iowa (down 31.1% from March to June) and Michigan (down 32.8% from March to May), though similar to Illinois (down 19.9% from March to May), analysts said.
In June, 88.7% of all bets in Indiana were made online, totaling $218.4 million. That's down from 89.8% in May.
DraftKings topped the online, taking in $75.6 million in online bets, down from $81.8 million in April. June's bets produced $6.2 million in gross receipts, up from $2.9 million in May, analysts said.