Indiana wagered a billion more dollars in sports betting than 2021, landing it No. 6 on a list of states that wagered the most.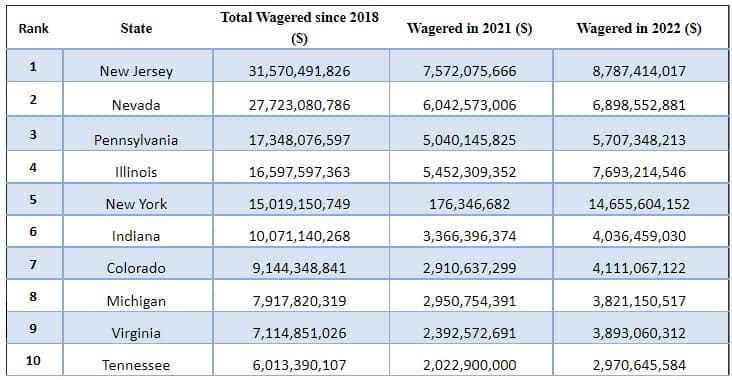 According to research by Sportsbook Review, Indiana wagered $3 billion in 2021 and $4 billion in 2022.
A report by the Indiana Gaming Commission showed that 2022 broke a state record.
"December's $431 million handle gives us the full picture for Indiana's sports betting market in 2022," said Jake Garza, a PlayIndiana analyst. "Hoosiers bet more than $4.4 billion on sports in 2022, a state record in a single year. The massive growth in the industry has been impressive, but it might not last forever."
PlayIndiana expects the state's sports betting to dip slightly in 2023. Ohio started sports betting Jan. 1, which could cause Indiana's numbers to decrease slightly. Plus, the number of sportsbooks has plateaued with a limited amount betters are willing to spend.
The Supreme Court ended the federal ban on sports betting in 2018, leaving the decision up to states whether to legalize it. Indiana legalized online sports betting in 2019. Legislators also are considering legalizing iGaming, but some leaders are leery of the possible outcomes, including harm to those addicted to gambling and possible illegal activity.
"Sports betting has seen a huge increase since some states have legalized it within the last four years, with wagers increasing by 70% from 2021 to 2022," a Sportsbook Review spokesperson said. "In the first year after the Supreme Court ruling, legal U.S. sportsbooks took in $9 billion. In 2022 so far, over $74 billion has been wagered, that's a 744% increase in four years."
Bonus, a gambling information website, predicts Indiana could earn $190 million a year in tax revenue from iGaming.
PlayIndiana also says gambling legislation would be good for state coffers. It estimates a "fully mature industry" could bring in more than $993 million in revenue each year, which would result in $178 million in taxes for the state.
Online sports betting has been successful since its legalization in 2019, racking up more than $10 billion in wagers. But PlayIndiana predicts online casino revenue would quickly "dwarf" sports betting's numbers.
For an analysis of Indiana's iGaming legislation, read the Indiana Capital Chronicle's analysis.