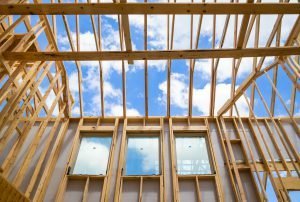 Building permits for new homes dropped dramatically in September from August.
The Indiana Builders Association, citing U.S. Census Bureau data, said 1,277 building permits for new homes were recorded in the state in September, which is nearly the same number pulled in September 2017, when 1,275 permits were logged.
The September total fell from August, which saw 1,624 permits for new homes recorded in the state. The association said while new home building permits saw a month-to-month decline, year-to-date numbers are running 6 percent ahead when compared to the same period last year.
"Amid recent economic challenges, builder confidence is continuing to escalate as the demand for new housing follows," said Pat Richard, president of the Indiana Builders Association.
In October, the National Association of Home Builders/Wells Fargo Housing Market Index, a barometer of builder confidence, stood at 68. Any number over 50 indicates a majority of builders view sales conditions as good versus poor.
The housing market index began the year at 72 and fell to a low of 67 in August and September.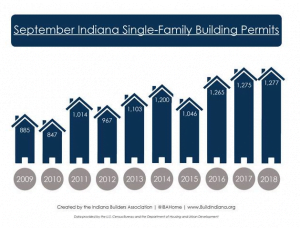 The August to September drop in new building permits is a repeating trend during the past 10 years according to historic data, the association said.
"The housing outlook for 2018 remains favorable as the Hoosier economy grows stronger with positive demographic tailwinds," said Rick Wajda, CEO of the Indiana Builders Association. "Going into a pivotal election next week, the main concern we will focus on are policies that address housing affordability which is currently being affected by various supply-side challenges."