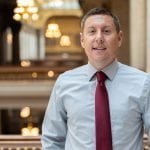 Zachary Jackson is the new Indiana state budget director.
Jackson has served as the state deputy budget director since 2013.
"With his great financial expertise, Zac has played an essential role in drafting balanced budgets that maintain healthy fiscal reserves and protect our AAA credit ratings," Gov. Eric Holcomb said in a June 14 statement. "Zac is a dedicated public servant who has worked for five governors since joining state government, and I know in his new role he will continue to help take Indiana to the next level."
As the deputy budget director, Jackson helped produce the Holcomb's biennial budget and managed state spending.From 2008 to 2012, Jackson served as assistant director of the state budget agency overseeing the health and human services division, where he managed more than 40 percent of the state's annual budget and provided fiscal oversight to approximately 35 state agencies.
Jackson currently serves as the president of the National Association of State Budget Directors.
He earned a master's degree of business administration from Butler University and a master's degree in public affairs from Indiana University-Purdue University Indianapolis. Through the 21st Century Scholars program, he earned a bachelor's degree from the University of Southern Indiana, and an associate's degree from Vincennes University.
Jackson takes over for Jason Dudich who left the post in May to take over as vice president, chief financial officer, and treasurer of the University of Indianapolis.