Longtime CEO Beth Wrobel will retire from Valparaiso-based HealthLinc at the end of the year.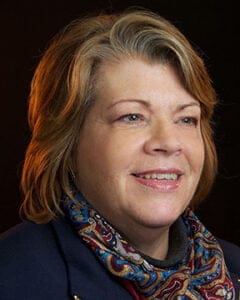 Wrobel has led the organization since 2002, expanding it from a free medical clinic to a federally qualified health center. It now operates 12 clinics, two school-based telehealth clinics, and a mobile clinic that offers medical and dental services. HealthLinc RX's two pharmacies also offer a full slate of services, with more locations planned for the future.
"It has been an honor to work with such a dynamic force," said Kristi Figg, long-time board member and former HealthLinc board chair, in a press release. "Beth's commitment to the mission of creating healthy communities is rooted in compassion and a deep belief that everyone has a right to quality health care. She is an amazing leader and has positioned HealthLinc for success well into the future."
More than 450 people work for HealthLinc.
"It has been my honor to lead a staff of dedicated people who are all committed to the same goal of making sure everyone has access to quality health care, regardless of their circumstance," Wrobel said.
Bethesda, Maryland-based The Meyers Group will assist HealthLinc in finding a new leader.
"Finding the next leader for HealthLinc is a big challenge," said Chris Atherton, HealthLinc chairman of the board. "Beth has a depth of knowledge and experience in the health care industry that is not easily replaced. Balancing limited budgets and federal guidelines with the ever-changing and expanding need for health care is a daunting task and one that Beth has done successfully for over 21 years."
The Meyers Group specializes in identifying leaders for health care institutions, specifically with federally qualified health care centers in Indiana.
"We have worked with many similar mission-driven organizations throughout Indiana and across the country, and HealthLinc is truly one of the most successful systems with which we have worked," said Dr. Stuart Meyers, president of The Meyers Group. "This opportunity will be tremendously appealing to health care executives who wish to lead a dynamic system of care in such a great community as Valparaiso."
HealthLinc began in 1996 as Hilltop Neighborhood House in Valparaiso. Services are provided on a sliding scale based on income and household size.
Caption: HealthLinc CEO Beth Wrobel announced last year a new $15 million facility adjacent to the Michigan City Ivy Tech Community College campus. (Photo by Doug Ross)