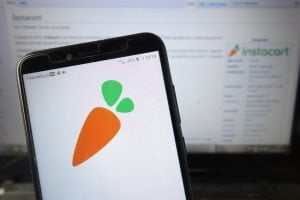 Executives with Strack & Van Til Food Market in 2016 launched a partnership with Instacart. The then 4-year-old online company provided same-day grocery delivery and pickup service.
The decision paid off for the Highland-based grocer, which operates 20 Strack & Van Til locations and one Town & Country store across Northwest Indiana. Shoppers can buy their groceries online at any of these locations and have it delivered for a fee to their home by Instacart.
Michael Tyson, chief marketing and merchandising officer for Strack & Van Til, said online sales represent a small part of the company's overall business, but it's growing and comparable to industry averages.
More Region residents are shopping online for groceries, and in the case of Strack & Van Til through its partnership with Instacart, shoppers also get the assurance that what they buy comes from an established Northwest Indiana brand.
"I believe customers' response has been good, not only because (our sales) continue to grow, we ask them to rate us," Tyson said. "We've seen significant growth for the past two years, (and) recent trends are (between) 60% and 70% growth."
Strack's online shoppers who responded to the company's survey about their online shopping experience gave the grocer a cumulative score of 4.8 out of 5 in 2019. This rating would include Strack's service through Instacart as well as its curbside pickup option, where shoppers buy online and pick up their order at a store.
Industry experts say online grocery sales are showing no signs of slowing.
Supermarket News, citing Coresight Research's U.S. Online Grocery Survey 2019, reported 36.8% of 1,888 polled internet-using adults said they bought groceries online in the past 12 months. Those figures are up 23.1% from the 2018 study. Based on U.S. Census data, Supermarket News estimated the 2019 percentage represented 93 million online grocery purchasers, an increase of almost 35 million from 2018.
Strack and other grocers who partnered with San Francisco-based Instacart, now valued at $8 billion and serving 5,500 cities across the U.S. and Canada, increased competition for pioneering online grocery delivery service Peapod. It was founded in Evanston, Ill., in 1989, and began delivery in Indianapolis in 2011.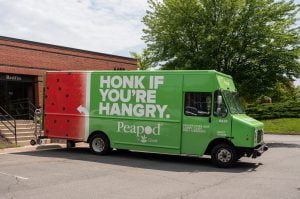 Ahold Delhaize USA, which bought Peapod in 2000, announced Feb. 11 that it was shuttering its Midwest division of Peapod online grocery sales and ceased deliveries Feb. 18 in Indiana, Illinois and Wisconsin. The move affected about 500 employees throughout its operations in Indiana, metropolitan Chicago and Milwaukee.
Peapod operated a 50,000-square-foot distribution center on Indianapolis' east side at 9222 E. 33rd St. where 15 people worked.
Supermarket industry media outlet Winsight Grocery Business recently reported Peapod's business model of operating fleets of delivery trucks and warehouses typically no longer is part of grocery e-commerce. The approach of Instacart offers lower operating costs. It partners with retailers and has personal shoppers who buy items at stores selected by customers and then deliver those orders in about an hour.
Peapod was granted conditional tax incentives through the state and city of Indianapolis if it met projected job creation numbers but didn't, according to the Indianapolis Department of Metropolitan Development. Peapod in 2014 pledged to create as many as 238 jobs in Indianapolis by 2018, but never hit those numbers. That failure led the city to end its tax incentive deal with the company in 2018.
Peapod paid $6,928 to the city of Indianapolis in 2018, the amount it received through tax incentives.
Ahold Delhaize USA said Peapod will continue online sales and grocery delivery on the East Coast. It also will maintain its digital and e-commerce operations in Chicago where it employs about 450 people.
Strack and Van Til executives recognize the importance of keeping up with competitors and consumer trends. The company's partnership with Instacart is another strategy to remain competitive in the grocery marketplace.
"Strack & Van Til knew that e-commerce was growing at an accelerated rate, and Instacart was a way we could get into this business quickly," Tyson said.