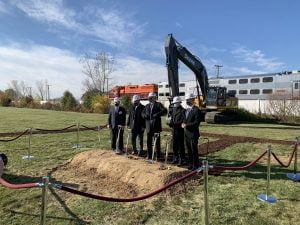 Years of planning and preparation have made expanded commuter rail service a reality in Northwest Indiana.
On Oct. 28, Gov. Eric Holcomb was joined by federal and Region officials for a ceremonial groundbreaking in Dyer at the site of what will be a future train station. The station will be the southernmost stop of a new eight-mile line extension from Hammond, which will connect riders to service to Chicago.
"Today we celebrate the beginning of the largest and most comprehensive economic development project in Indiana," Bill Hanna, chief executive officer of the Northwest Indiana Regional Development Authority, said in a statement posted on the organization's Facebook page.
The extension, known as the West Lake Corridor Project, includes four new train stations as well as the extended rail line. The project in June received $100 million in federal dollars through the Federal Transit Administration's Capital Investment Grants Program, which was seen by officials as an advance on the requested $355 million in federal money, which was sought for the project and secured.
Construction is expected to run through 2025. Officials hope service will begin by 2026.
Work continues on the Double Track Northwest Indiana Project, which could begin construction sometime in 2021 and take at least two years to finish.
This project involves improvements to more than 26 miles of track from Gary to Michigan City. It includes installation of a second mainline track, improvements at five stations, expansion of parking lots for more than 1,300 new parking spaces, and nine new platforms.
The Double Track project also includes safety improvements in Michigan City, where the rail will be separated from the roadway and 21 at-grade crossings will be closed, according to the Northern Indiana Commuter Transportation District, operator of the South Shore Line. The project is expected to more than double existing South Shore Line ridership and reduce travel times for all riders travelling east of Gary.
Project leaders estimate the Double Track NWI and West Lake Corridor projects could attract up to $2.3 billion in private investment to Northwest Indiana and bring in 6,000 new jobs and $3 billion in economic impact by 2048.