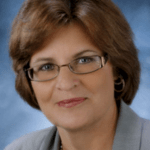 The Greater La Porte Chamber of Commerce is in search of a new president and CEO.
In its Dec. 10 email newsletter, the chamber said Rita Mrozinski, who had served as president and CEO since Jan. 1, 2017, "has moved on from her position with the chamber." No other information was provided.
A selection committee has been formed and is actively searching for Mrozinski's replacement.
Mrozinski had been with the chamber since August 2011, according to her Linkedin profile. She had served as the chamber's vice president of membership services before being selected by the chamber's board of directors to be the next president and CEO in November 2016.
Mrozinski replaced Michael Seitz, who retired as the chamber's president and served the organization for 15 years.
Mrozinski worked as a service manager for Wells Fargo Bank from September 2009 to August 2011 before joining the chamber.
The chamber's website notes Lindsay Jongkind, membership director, handles the organization's day-to-day functions, as well as marketing, member recruitment and retention and working with the chamber's ambassadors committee.
The chamber's selection committee is accepting resumes of candidates interested in the organization's president and CEO position. Questions about the position will be answered by the steering committee and should be emailed to info@lpchamber.com.