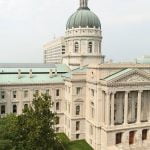 The office of Gov. Eric Holcomb recently announced the following appointments to these state boards, commissions and task forces.
Board of Trustees of the Indiana Criminal Justice Institute (terms expire Sept. 30, 2022):
The Honorable Darrin Dolehanty, Richmond, judge of the Wayne Superior Court III
Cory Martin, Whitestown, executive director of the Indiana State Police Alliance
The Honorable Andrea Trevino, Fort Wayne), judge of the Allen Superior Court family relations division
Brookville Lake Regional Waste District (term expires Sept. 30, 2023):
Jeff Tebbe, Brookville, recruiter with Trustaff
Executive Board of the Indiana State Department of Health (reappointment terms expire Jan. 31, 2023):
Dr. Naveed Chowhan, New Albany, physician with Baptist Health Medical Group
Brenda Goff, Mount Vernon, regional director for U.S. Sen. Todd Young
Antonio "Tony" Stewart, Kokomo, owner of Stewart's Healthcare Consultants
Dr. Stephen Tharp, Frankfort, health officer for Clinton County
Two new appointments to the board (terms expire April 30, 2023):
Dr. C. Martin Hanneman, Centerville, dentist with C.M. Hanneman D.D.S. General Dentistry
Dr. Holly Robinson, Indianapolis, senior medical advisor at Eli Lilly and Co.
Indiana Land Resources Council (reappointment terms expire Nov. 30, 2023):
Jeff Healey, Plainfield, vice president of Banning Engineering
Kara Salazar, West Lafayette, assistant program leader and extension specialist for sustainable communities with Purdue University
One new appointment to the council (term expires Nov. 30, 2023):
Seth Harden, Westfield, Upper Wabash River Project director for The Nature Conservancy
Meridian Street Preservation Commission
Ed Fujawa, Indianapolis, deputy general counsel with the Indiana Department of Insurance; term expires June 30, 2020.
David Roth, Indianapolis, vice president at Cripe; term expires June 30, 2021.
Quarter Horse Breed Development Advisory Committee
Bruce Murphy, Crawfordsville, owner of Murphy Trailer Sales, who will serve as the committee's chair; term expires Sept. 30, 2023.
State Armory Board
Major Gen. (Retired) Martin Umbarger, Bargersville, former Adjutant General of the Indiana National Guard (term expires, April 30, 2021).
State Fair Board
Cheri Daniels (Carmel), former First Lady of Indiana (term expires, Sept. 30, 2023)