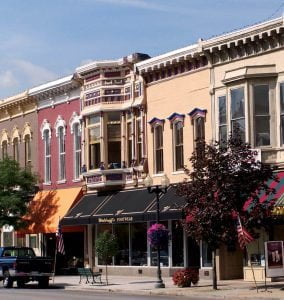 The organization working to strengthen and preserve the vitality of downtown Goshen is among 40 recipients receiving a share of $200,000 in state grant funds.
The Indiana Office of Community and Rural Affairs recently announced 40 Indiana Main Street programs will share in the grant award through the Taking Care of Main Street program, which provides operational support for Main Street organizations impacted by COVID-19. Each recipient received $5,000.
Downtown Goshen Inc. will use the funds to support and promote downtown businesses and help administer a facade incentive program for central business district buildings.
"Main Street organizations are a lifeline for small businesses who are doing their best to survive the effects of this pandemic," said Lt. Gov. Suzanne Crouch. "Ensuring small businesses are able to survive requires a comprehensive approach. This funding can help bridge the gap."
The program seeks to support Indiana Main Street organizations, which provide leadership and services to the businesses and members, using the Main Street Approach, with priority given to organizations impacted by the pandemic.
"As we saw from these applications, most Main Street organizations are dealing with loss of funding from a variety of reasons related to COVID-19," said Matt Crouch, interim executive director of OCRA.
Eligible expenses could include salaries, administrative fees, space/equipment rental or staff development and training. The complete list of grant recipients is available on the state's Main Street website.
There are 128 Main Street organizations in Indiana, spread across 81 counties. The Northwest and North Central Indiana communities participating in the program include: La Porte, Michigan City, Highland, Bremen, Culver, Plymouth, New Carlisle, North Liberty, Francesville, Remington, Rensselaer, Goshen and Nappanee.