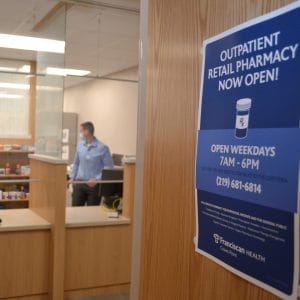 A discharge from the hospital or a doctor's visit can come with lengthy instructions and medication list needed for recovery at home.
Being able to fill the prescriptions before leaving, is one less worry for a patient and their caregivers, representatives for Franciscan Health say.
Franciscan operates outpatient retail pharmacies at five of its hospitals – Crown Point, Lafayette, Indianapolis, Michigan City and Olympia Fields. A sixth outpatient pharmacy recently relocated to the Franciscan Physician Network Hammond Clinic in Munster.
The Franciscan pharmacies are available to patients and the public. Most insurance plans are accepted and are the preferred, tier-one pharmacy for Franciscan Alliance employees.
"Our mission is to provide personalized, compassionate care to those patients we serve," said Denise Garner, manager of retail pharmacy services at Franciscan Health. "We focus on the patient and building relationships."
The hospital retail pharmacies also offer bedside delivery service, where needed prescriptions are delivered to a patient's room.
"Our pharmacy staff work with providers to ensure patients receive their discharge medications," Garner said. "We focus on easing the transition from the patient's hospital stay to their home so they can focus on rest and recovery."
The pharmacy also will work directly with the patient's provider to resolve any insurance coverage issues or affordability concerns, Garner said.
The pharmacies also provide immunizations, medication therapy management and durable medical and equipment sales.