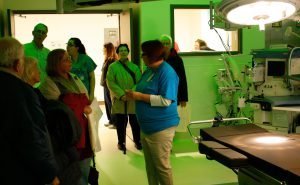 Franciscan Health's new $243 million hospital in Michigan City is ready for business.
The facility, which fronts I-94 and took about 2 1/2 years to complete, is scheduled to open Jan. 12. In recent weeks, Franciscan dedicated the hospital's chapel, hosted a VIP reception and open house for about 500 people, hosted an open house for staff and on Dec. 8 welcomed in more than 3,000 people to a public open house.
 "The open houses far exceeded my expectations," said Dean Mazzoni, president and CEO. "All three days were well attended, especially the VIP event and the community event, which were both beyond capacity."
Sister Petra Nielsen, vice president of mission integration, said, "the sisters have had a health care ministry in Michigan City for over 114 years, when our first sisters came to Michigan City to serve the ill and needy."
Nielsen said at that time, there were still horses and buggies traveling around the community.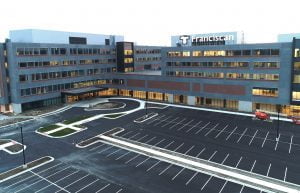 "And now, this beautiful, state-of-the-art facility will allow the Sisters of St. Francis, its dedicated employees, physicians and volunteers to continue their mission another 100 years to come," she said.
Mazzoni was pleased by the community response to the new facility and the opportunity the open houses offered for people to meet the hospital staff.
 "I was most excited to show off our great people – all of the blue shirt volunteers, many who attended all three days for many hours," he said. "They made the events possible and a huge success, and it reminded me of how much ownership our people have in this new facility. They helped us design and build it – doctors, nurses – alongside housekeepers and maintenance.  It is their hospital."