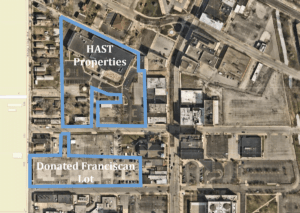 The Franciscan Alliance donated land to the Hammond Academy of Science and Technology to help with plans for growth.
The land on the north side of Clinton Street between Hohman Avenue and State Line Road, which was a parking lot, will help provide opportunities for expansion of the 13-year-old charter school, according to a press release.
"(The donation) means there is a future for HAST," said Sean Egan, who retired as principal at the end of the school year. "It gives our families excitement for the next generation."
The school needs more room for outdoor gym classes and an athletic field for team sports. The donation, along with parcels already owned by the school, could provide a solution.
Calvin Bellamy, chairman of the Franciscan Alliance Northern Indiana board of directors, spearheaded the effort for the donation.
"That land served the community for generations and served it well," Bellamy said. "By transferring this property to the school, it will continue to serve it well into the future."
The school, at 33 Muenich Court, offers classes to 500 students in sixth through 12th grades. The student body mainly is comprised of Black and Hispanic students.
Caption: This map shows property owned by Hammond Academy of Science and Technology and the property donated by Franciscan Alliance. (Provided by Franciscan Alliance)