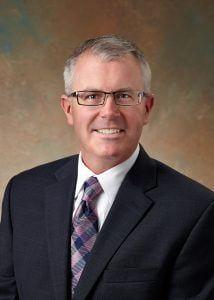 Bill Higbie, president and CEO of the Porter County Community Foundation, is the newest member of the board of trustees for Porter Regional Hospital in Valparaiso.
Sean Dardeau, Porter Health Care System CEO, welcomes Higbie's insight and knowledge of the Porter County community. Higbie also is a member of the Valparaiso Rotary Club and the board of directors of the Valparaiso Chamber of Commerce.
"The experience Bill brings to us from his many years in the community and his work with the Porter County Community Foundation will be an asset to our board of trustees as we continue to advance the delivery of quality care in Northwest Indiana." Dardeau said. "His perspectives will be helpful in guiding our continued growth as we strive to meet the healthcare needs of our region."
Higbie looks forward to his role with Porter Health Care System.
"I appreciate the opportunity to join the Porter Regional Hospital Board and consider it an honor to support its vision for continuing the delivery of quality healthcare in Northwest Indiana," he said.