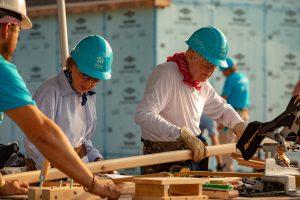 MISHAWAKA – More than 20 new homes will be built in Mishawaka and another 20 repaired or renovated in the Mishawaka/South Bend area as part of a Habitat for Humanity International initiative led by former President Jimmy Carter and his wife Rosalynn.
The 35th Jimmy and Rosalynn Carter Work Project brought the former president and first lady to Mishawaka on Aug. 27 where they are planning this week to work alongside with Habitat for Humanity volunteers and future homeowners. The Carters are assisting in building 22 new, affordable homes in what will become an all-Habitat for Humanity neighborhood in Mishawaka.
Including other Habitat projects this year and others planned the rest of 2018, a total of 41 homes will either be built, renovated or repaired in Mishawaka and South Bend as part of the 2018 Carter Work Project.
"The 35th Jimmy & Rosalynn Carter Work Project is an incredible milestone for Habitat for Humanity, as we reflect on the decades of service that President and Mrs. Carter have provided to our nation and the world," said Jonathan Reckford, CEO of Habitat for Humanity International. "It's also a landmark moment for these 41 families in Indiana, who after building alongside the Carters and our enthusiastic volunteers, will move into homes that give them the strength, stability and self-reliance they need to build a strong future."
Habitat for Humanity of St. Joseph County, which is hosting the 2018 project, has a long history of creating opportunities for new and current homeowners to build a safe and decent place to call home. Since 1987, Habitat of St. Joseph County has helped more than 400 families build strength, stability and self-reliance through shelter.
The organization mobilizes volunteers and community partners to build affordable housing and promote homeownership.
Since 1984, the Carters have traveled around the world with Habitat to build and improve homes. During the first 34 work projects, the Carters have worked alongside more than 100,000 volunteers in 14 countries to build, renovate and repair 4,290 homes.