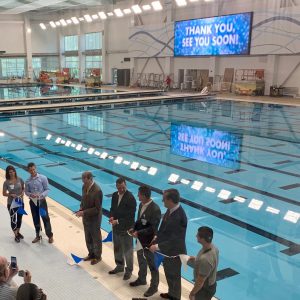 Elkhart Health & Aquatics now is open.
The opening of Beacon Health & Fitness marks the completion of the first phase of the $59 million facility in downtown Elkhart. A larger-than-Olympic-size competition pool and The Commons, a space for community programs, classes and meetings, are scheduled to open Aug. 1.
The 171,000-square-foot, state-of-the-art facility is a collaboration of the Community Foundation of Elkhart County, Beacon Health System and Elkhart Community Schools, with contributions from the city of Elkhart, Regional Cities Initiative and contributions from the community, Elkhart business leaders and philanthropists, according to a statement from South Bend-based Beacon Health System.
"We are very thankful for the key role Elkhart County's philanthropic community played in raising money for Elkhart Health & Aquatics," said Dr. Pete McCown, Community Foundation of Elkhart County president. "Because of that generosity, this is a gift that can be used by the entire community."
The project broke ground in 2017, but planning took place years prior to it moving forward.
"More than four years ago, Beacon was approached by leaders in the community looking to fulfill a vision of bringing world class aquatics to our community," said Jeff Costello, chief financial officer at Beacon Health, which will operate the facility. "Those leaders took note of Beacon's dedication to health and began a conversation with us about what was possible."
The center will offer cardiovascular equipment, strength training, squash and racquetball courts, fitness studios for yoga, Pilates, TRX training and aerobics, therapy and lap pools, suspended running track, gymnasium and outdoor fitness areas. Similar to its South Bend and Granger locations, it will offer medical fitness options with onsite physical therapy, sports medicine and other services.
Elkhart Community Schools plans to provide its students access to the facility.