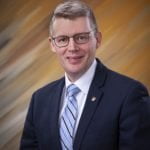 Troy Rose has joined First Merchants Private Wealth Advisors as a wealth advisor in the company's Northwest Indiana lakeshore region.
Rose is a 1996 graduate of Ball State University. He has 15 years of experience in the financial services industry. He previously has worked for JP Morgan Chase and Fifth Third Bank.
Rose is a lifelong resident of Northwest Indiana, and currently lives in Valparaiso with his wife Amanda and two sons, Jake and Luke.
Rose serves on the board of TradeWinds, an organization serving people with special needs by empowering them to realize their full potential.