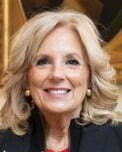 First lady Jill Biden won't make it to Ivy Tech Community College's Valparaiso campus Feb. 17. The White House postponed the visit, according to an announcement from Ivy Tech's public affairs office.
The White House is planning to reschedule the visit.
Biden was going to discuss her husband, President Joe Biden's plans for the economy, including how to create good-paying jobs and promote life-long learning.
Jill Biden did visit Mesa Community College in Arizona on Feb. 13. There she reiterated the President's stance that community colleges provide the "best career training in America," according to prepared remarks for the event. She said his administration wants to make apprenticeships and community colleges accessible to all Americans.
Learn more about Jill Biden's postponed visit here.