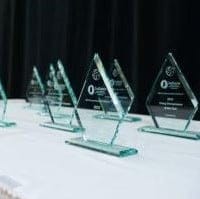 Nominations for the annual Entrepreneurial Excellence (E-Day) Awards are due Aug. 24.
Presented by the Northwest Indiana Small Business Development Center, the program is now in its 31st year. This year's event will celebrate entrepreneurs and their advocates and introduce a new category, Advocate for Youth Entrepreneurship.
Information on the 2021 honorees is available on the NW-ISBDC website dedicated to the program. Last year's winners also were featured in the December-January 2022 edition of Northwest Indiana Business Magazine.
Nomination packets are available online or by calling the Northwest ISBDC office at (219) 644-3513.
Award categories include: small business person of the year, entrepreneurial success, small business exporter, young entrepreneur, minority-owned small business person, family-owned business, emerging small business, small business advocate and advocate for youth entrepreneurship.
Entrepreneurs with a three-year track record and great growth potential in the seven-county Northwest Indiana Small Business Development Center area of Lake, Porter, LaPorte, Jasper, Starke, Pulaski and Newton counties are eligible. The nomination process is open to the public.
Winners will be celebrated during a luncheon event Oct. 26 at the Avalon Manor in Hobart.