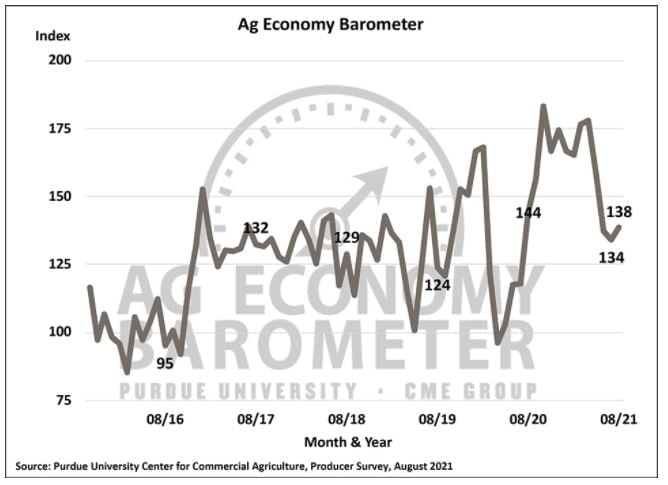 Indiana's ag sector appears to be feeling better about the economy.
The Purdue University/CME Group Ag Economy Barometer improved in August when compared to July, up four points to 138.
Purdue researchers said the modest rise was attributable to improvements in the barometer's sub-indices. The index of current conditions rose nine points to 152 and the index of future expectations rose two points to 132.
The ag economy barometer is calculated each month from 400 agricultural producers' responses to a telephone survey. This month's survey was conducted between Aug. 23 ad Aug. 27.
In August, producers had a more positive view of their farms' financial situation than earlier this summer. The farm financial performance Index rose 11 points to 110, its highest reading since May, as more farmers indicated they expect profitability to be better this year compared to 2020.
Although corn, soybean, and wheat prices have declined in recent weeks, farmers have more confidence in their 2021 revenue expectations, researchers said. Yield prospects stabilized or improved for many producers in August as some precipitation fell in areas that had been abnormally dry and drought stricken.
Producers are becoming increasingly concerned about farm input price inflation. On the August survey, 39% of respondents said they expect input prices to rise by 8% or more in the next 12-months, up from 30% who felt that way in both June and July. One in five producers (21%) expect farm input price inflation to exceed 12% in the next 12-months.
The farm capital investment index leveled out after four consecutive months of declines, up three points to 53. Researchers said the improvement in the index could be traced to fewer producers in August saying they planned to reduce their farm construction activity compared to a year ago.
Farmers' machinery purchase plans reported on the August survey were unchanged from July. Industry reports continue to suggest that supply chain challenges are hampering farmers' machinery purchase plans and could also be playing a role in reduced construction activity.