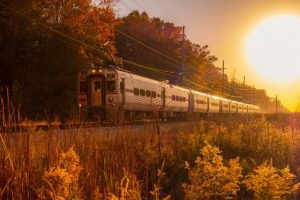 Expanding passenger rail service in Northern Indiana appears to be coming closer to reality.
The Northern Indiana Commuter Transportation District (NICTD), operator of the South Shore Line, in a double-tracking project update released Aug. 15 said the latest step in the process, completion of an environmental analysis had been accomplished in compliance with federal rules. NICTD said the Federal Transportation Administration (FTA) determined the project would create no significant impact to the surrounding environment.
The double-tracking proposal calls for improvements to the South Shore Line traveling approximately 25 miles through Lake, Porter and La Porte counties, and the communities of Gary, Portage, Ogden Dunes, Dune Acres, Beverly Shores, Pines and Michigan City. The project's main component is to add a second track to the single-track route and move the street-running tracks along 10th and 11th Streets in Michigan City.
NICTD said the project's next step is to win approval to start the engineering phase of the project. A formal request seeking approval was submitted to the FTA on June 27.
NICTD said it also requested the FTA provide a project rating for the double-tracking proposal, which is used to justify funding recommendations to Congress. The project must receive a rating of medium or higher to keep it moving along in the funding process.
NICTD expects to receive determinations on both requests before year's end.
NICTD remains optimistic construction will begin in 2021 and end in 2023. The earliest NICTD would begin purchasing real estate would be in December with most acquisitions occurring throughout 2020 and into early 2021.
Tentative timelines released by NICTD may change depending on project progress, the agency said.
The double-tracking project is being pursued in conjunction with the West Lake Corridor Project, which would extend the South Shore Line eight miles and provide new rail service to Hammond, Munster and Dyer.
The new branch of the West Lake Corridor Project would connect with the existing South Shore Line in north Hammond and ultimately with the Metra Electric District line, with a final stop at Millennium Station in downtown Chicago.
Combined, West Lake and the double-tracking proposal are projected to attract approximately $2.3 billion in private investment to Northwest Indiana, and result in an estimated 5,700 new jobs and $3 billion in economic impact by 2048, according to project supporters.